When I first saw the "Stages of a Photographer" graph, I laughed with the memories of expectations that came with my first Nikon purchase in 1984; in no time,  I would be creating images equal to those in the National Geographic.  Cringe.
The Stages graph inspired me to explore Youtube videos of photographers who share  their learning journey and this search led me to the website, Japan Camera Hunter  who features Dan K's, A Learning Framework for Photography.  
Step I Get an Eye for Photography
A reasonably acute Artistic Eye should be the fundamental foundation upon which your photography should be built, rather than something you will get round to once you've topped out on your technical expertise.
If possible find a mentor, or a teacher who will show you their best work and critique it together.
Look at photo books and images in photo collections.  Find the images that speak to you and go over them with your mentor.
Learn to appreciate a good image, be it a photograph or a sketch.
Pick a genre that can be done with basic skills and focus not on the equipment, execution or look, but on making the image engage the viewer as intended.
Focus, sharpness, depth of field, lightening, color, all that kind of thing is embellishment. Even composition is subordinate to the engagement, to the message and to the reaction that you hope to elicit…
Go through the whole classical learning cycle with each photo, each session, each project:

Take the photo.
Decide what you like or don't like about it.
Consider what you could have done better.
Ask yourself how this learning applies to other photos you took or have seen
Apply this to your next photo and repeat the cycle.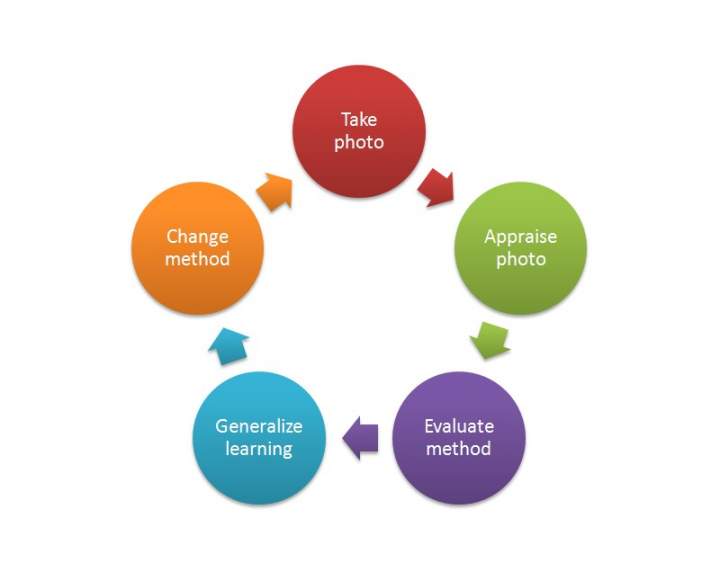 Feedback and learning is what separates an improving photographer from someone that sprays-and-prays but never improves…the learning process never finishes.
When you have reached a plateau in your learning curve

Don't let your photography stagnate
Consolidate your learning
Prepare a project of your learning journey
Consider what other fresh avenues you can pursue to improve your work
At the end of this step you should have a fair understanding of what an interesting and compelling image looks like and how to make one, even if the execution is rudimentary.
By starting out right, with an understanding of what a good photo looks like, confidence may take a beating at first but you'll be on the right path with less time wasted with follies into unnecessary gear or special effects.
Dan K's learning steps 2 through 7 guidelines will be covered in next week's A Photo Study.  If yo wish to share, I would love to hear about or see examples of your personal photo journey.  Let's tag with #aphotostudy.
I hope you enjoy Sean Tucker's personal narrative of his journey